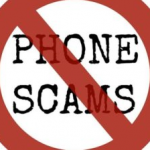 No one likes to be scammed. So hopefully you found this article from doing a quick search of one of the scam numbers or word search on the voice mails that these scammers leave.
If you have, then you're lucky as after reading this you won't fall victim to the federal criminal offense or similar voicemail scam that continues to be hot in the wild.
This is one of the top scams that is still occurring today. Join other fellow readers by submitting the scam number and leaving a comment, ensuring they won't have a chance to scam anyone else.




View and Submit the Scammer List Phone Numbers




Not too often we get calls this bad to our business number leaving full voicemail scare tactic message to truly display what type of scum live out there.

Continue reading "Spam Hall of Shame – Phishing Fake Call Attempt From Call 206-400-9013" »