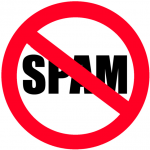 Hopefully you find this post (from search of "what number is 818-639-8611" before you fall victim to the scam. Its common to get fake form information sent to us, but generally they don't use the same email address over and over.
This is a scam to try to get you to call the number, because if you do, you will be billed for calling it and the scammer makes money.
So if you happen to receive a similar email or message from your contact from like displayed below and happen to come across this page; go ahead and delete the message and hit the like button below if this helped.
Continue reading "Spam Hall of Shame – Phishing Fake Form Submit Info From jco2661326@gmail.com – 818-639-8611" »