BUSINESS EMAIL SERVICE
Business runs on email. We offer business class email service as a value-added service for our clients. A professional business email service that is private, secure, and features your business name.
Our email system continues to be private email, encrypted communication, ad-free, and no data mining as Google, Microsoft, and other big players do for marketing purposes.
STANDARD BUSINESS EMAIL SERVICES
Our standard email services provide [ 3GB ] storage capacity and includes spam protection & malware protection.
$24 p/yr for each mail account
PREMIUM BUSINESS EMAIL SERVICES
Our premium email services provide [ 5GB to 10GB ] storage capacity and includes advanced spam protection & malware protection.
$36 p/yr for each [5GB] mail account
$48 p/yr for each [7GB] mail account
$60 p/yr for each [10GB] mail account
What features are included in our business email services?
Look professional and use your business name
A dedicated business email address, with your own domain, will give a more trustworthy look to your business in front of clients. Communicate easier with them using our professional business email service.
Private and secure email
Our services are encrypted and offered with 256 bit encryption to ensure the safety of your data, with SSL and TLS support. 
Access it from anywhere
You have access to your mail from Desktop apps – like Outlook, Thunderbird or Apple Mail – and when you're on the go you can switch to any email app on your smartphone. Or simply access our modern webmail from your favorite browser to check email, calendar and contacts. Anytime, anywhere.
Archive and Backups
Don't worry if you deleted an email by mistake! With our advanced email archiving solution we can recover any lost e-mail. You can even restore the contents of your mailbox to any previous version from the last 30 days.
Advanced Spam filtering
We'll keep your Inbox protected from unwanted email and viruses with our advanced Spam filtering solution that learns every day with you. Drag emails to the Spam folder to blacklist senders or mark them as safe to whitelist them.
No ads
Your inbox is yours. Period. You won't get distracted by ads and your data will not be filtered to deliver personalized ads, like free email providers do.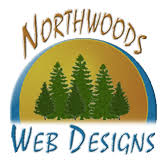 Jason at Northwoods Web Designs is great to work with. He is very professional, easy to work with, and very fast at responding to questions. Any time we have had to make a change to anything he was very prompt in that as well. We would recommend him to anyone looking for a website.
NWD has been great to work with. Our site was built in a timely manner with our input along the way. Since the launch, we have had wonderful customer service — questions are answered or issues are resolved right away. We are very happy with the service. Thank you!