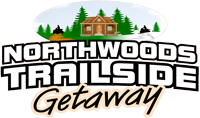 Who doesn't need a little Northwoods getaway? Check out the new Northwoods Trailside Getaway website we just launched for Cliff and Lanie. They did all the hard work but we are happy they chose us, Northwoods Web Designs, to help them market and advertise their beautiful cabin in the woods. This launch is just in time for you to go ahead and book your Northwoods Trailside Getaway! Go ahead, treat yourself!
It was a pleasure working with Cliff and Lanie in designing and launching their new site.
As with many businesses, they wanted a solid trustworthy company to handle all their website related services so they signed up with our popular Website Care Services Plans to meet their needs and assure their critical online presence is in good hands.
You can learn more about their new website here:https://northwoodstrailsidegetaway.com/
Northwoods Web Designs provides all the services needed to give new businesses, or non-profits the online presence they need with a website design that effectively showcases products or services they have to offer.
Services provided by www.northwoodswebdesigns.com: Web Design, Logo Design, Web Hosting, Domain Name Services, SEO, Website Maintenance & Security, Professional Domain Email Services