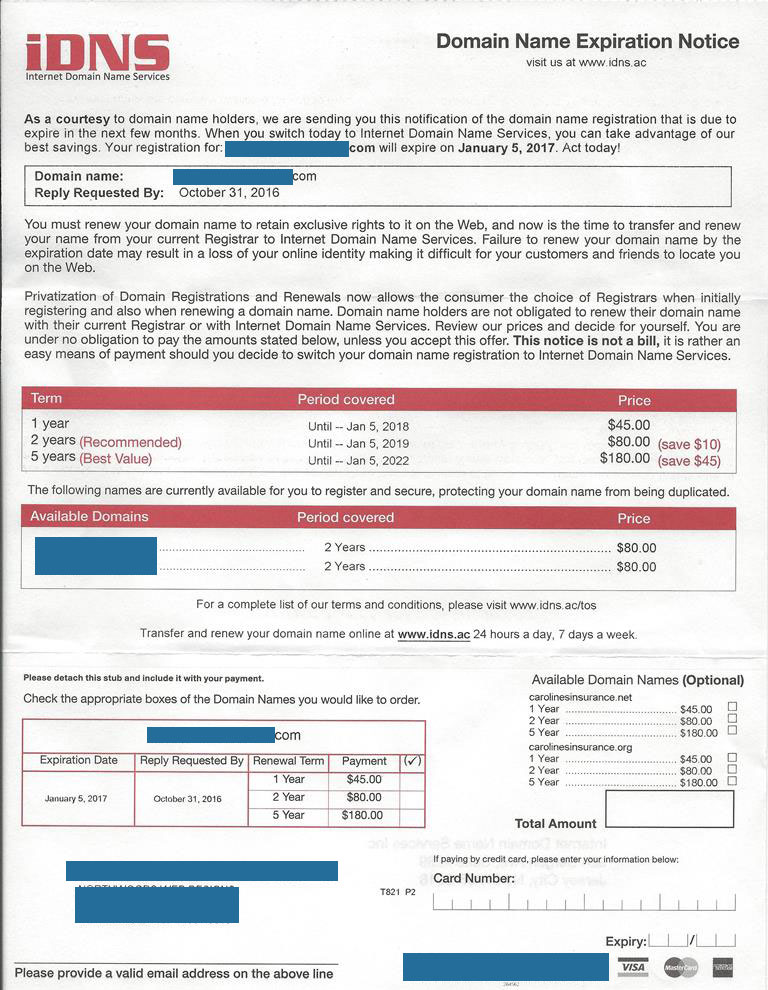 From time to time, some of Northwoods Web Designs (NWD) clients as well as ourselves, receive letters from fraudulent domain registrars who prey on people who don't fully understand the domain registration service by sending letters in the mail about their expiring domain and requests payment.
We get asked about these from our clients, which tells me they have clearly deceived their letters pretty well to try to trick some domain owners into thinking a domain renewal invoice.
So I first wrote about this a couple of years ago, but my clients and myself are still receiving these. Which is a problem. Why? Because it means many of you are still falling for the scam and paying United Arab Emirates 300-500% higher cost to own the registration to your domain.




Why is this considered Spam? Because its unsolicited (you didn't ask for it) and is a fraudulently deceiving letter, making you think the worlds going to end if you don't transfer your domain name to them. In which after they own your domain name registration, they can jack your price higher/hold your domain hostage to force you to pay.
So we want to provide this information to protect you, whether you have registered your domain name with Northwoods Web Designs or some other provider. Here is the word for word mailing that you may receive. Hoping you are finding this from searching, ultimately protecting yourself from this spam company.
These companies who send these letters, such as iDNS,  attempt to convince you into transferring or renewing your domain using their service. Which on average is 500% above the market rate for domain name services. 
The actual letter text:
iDNS, Internet Domain Name Services | Domain Name Expiration Notice (visit us at www  idns  ae (its not even a trusted .com domain name). 
As a courtesy to domain name holders, we are sending you this notification of the domain name registration that is due to expire in the next few months. When you switch today to Internet Domain Name Services, you can take advantage of our best savings. Your registration for: (domainname they pulled from public records) will expire on Month 99, 9999. Act Today!
You must renew your domain name to retrain exclusive rights to it on the Web, and now is the time to transfer and renew your name from your current Registrar to Internet Domain Name Services. Failure (scare tactic 101) to renew your domain name by the expiration date may result in a loss of your online identity making it difficult for your customers and friends to locate you on the Web.
Privatization of Domain Registrations and Renewals now allows the consumer the choice of Registrars when initially registering and also when renewing a domain name. Domain name holders are not obligated to renew their domain name with their current Registrar or with Internet Domain Name Services. Review our prices (we did and they suck, considering if you host with us, the cost is $0.00) and decide for yourself. You are under no obligation to pay the amounts stated below, unless you accept this offer. This notice is not a bill (this protects them legally if someone tries to sue after the fact of being suckered into this scam), it is rather an easy means of payment should you decide to switch your domain name registration to Internet Domain Name Services. 
1 Year | $45.00 (ouch)
2 Years | $80.00 (still ouch)
5 Years | $180.00 (just bad)
Please detach this stub and include it with your payment. (no thanks)
The Spam Address
Internet Domain Name Services Inc
924 Bergen Ave, Suite #289
Jersey City, NJ 07306-3018
I did some discovery work, these are the actual folks registered that will receive your money. Remember their web address that ends in .ae? Thats the country code for United Arab Emirates (you know, by Syria & Iraq) and matches their registration.
| | |
| --- | --- |
| Street1 | Intersections of Sheikh Zayed II Street and Sheikh Rashid Bin Saeed Al Maktoum Road |
| City | Abu Dhabi |
| State/Province | Abu Dhabi |
| Postal Code | 3838 |
| Country | ae (United Arab Emirates) |
You have no worries if you have your Domain registered with Northwoods Web Designs, we are aware of its expiration dates and unless specified otherwise; have it set to auto renew 30 days before payment is due.
Thais right, we already pay the fees and assure its renewed ahead of time even before you get an invoice.  Just one of many perks customers receive when they choose Northwoods Web Designs as their Web services partner.
If you have any questions or have received other deceptive letters, let us know by contacting us. We will be happy to post them to give warning to consumers.
Let us know if you have been receiving these (or similar ones) in the comments below.