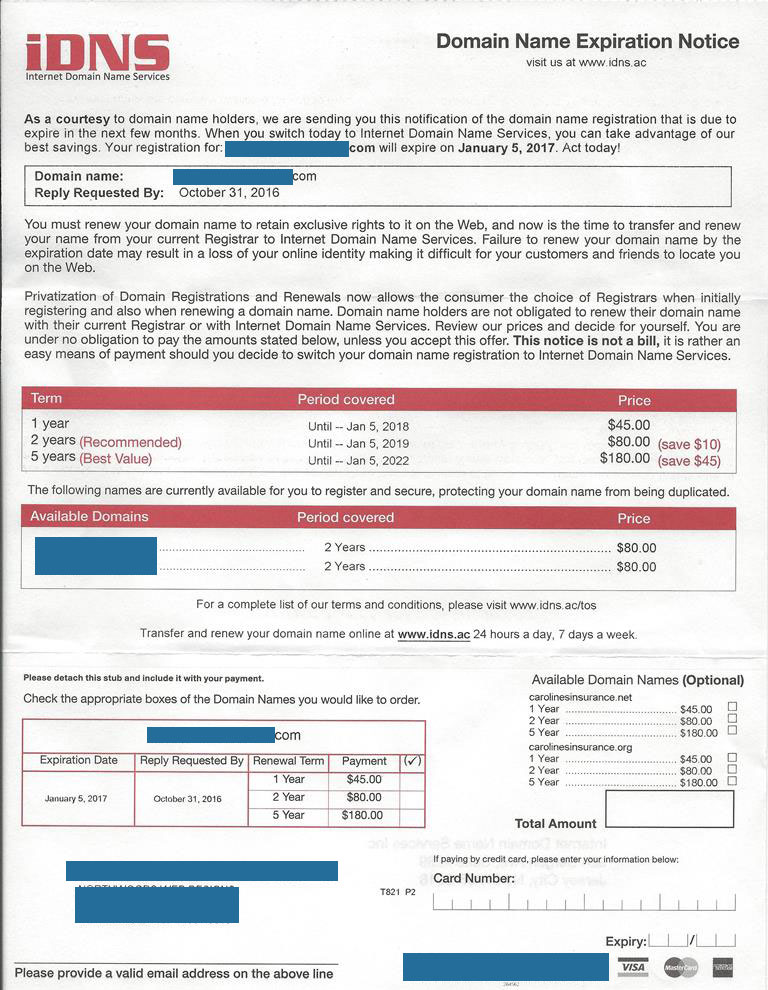 From time to time, some of Northwoods Web Designs (NWD) clients as well as ourselves, receive letters from fraudulent domain registrars.  We get asked about these from our clients, which tells me they have clearly deceived their letters pretty well to try to trick some domain owners into thinking a domain renewal invoice.
So we want to provide this information to protect you, whether you have registered your domain name with Northwoods Web Designs or some other provider.
These companies who send these letters, such as iDNS,  attempt to convince you into transferring or renewing your domain using their service. Which on average is 500% above the market rate for domain name services. 
They use words such as "Act Today!" or "You must renew your domain name to retain exclusive rights to it on the Web" and their fear statement of "Failure to renew your domain name by the expiration date may result in a loss of your online identity making it difficult for your customers and friends to locate you on the Web."
These methods, like iDNS use, appear shady and even deceptive.  Although they will be happy to transfer or renew your domain name with a 500% markup, they can also lock your domain and force you to pay higher fees for other services to keep your website running.
You have no worries if you have your Domain registered with Northwoods Web Designs, we are aware of its expiration dates and unless specified otherwise; have it set to auto renew 30 days before payment is due.
Thais right, we already pay the fees and assure its renewed ahead of time even before you get an invoice.  Just one of many perks customers receive when they choose Northwoods Web Designs as their Web services partner.
If you have any questions or have received other deceptive letters, let us know by contacting us. We will be happy to post them to give warning to consumers.