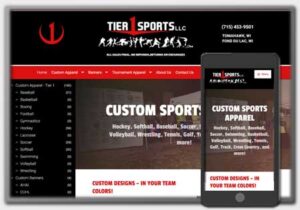 Tier 1 Sports is a very popular company providing custom apparel designs for many area sports teams. If you need custom team or tournament apparel you go here.
It was great working with Therese and the team at Tier 1 Sports in designing their new website and providing Website Care Services going forward.
Their new website includes the ability to order custom apparel, banners and tournament apparel all in one place, one cart and process the payment all at once, which their previous site could not achieve.
We were happy to provide a solution to all their needs, and the end result is a great website promoting their custom apparel e-commerce site while being supported by our popular Website Care Services plans which keeps their website secure and running optimum for the foreseeable future.
You can learn more about their new website here: https://tier1sports.com/
Northwoods Web Designs provides all the services needed to give new businesses, or non-profits the online presence they need with a website design that effectively showcases products or services they have to offer.
Services provided by northwoodswebdesigns.com: Web Design, Web Hosting, Web Care Plan Services, Domain Name Services, Responsive Web Development, SSL Certificate Services & Ongoing Maintenance & Support