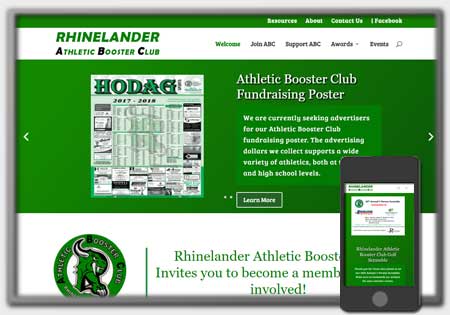 Congrats to the Rhinelander ABC for their recent website launch. It was great working with Brandon and folks on the ABC board on developing the website and making sure it provides value to the non-profit organization.
It not only showcases the many benefits of having an ABC in the community, but also provides information on how community members can join and support the ABC.
The new website (http://rhinelanderabc.org/) is full of resources, such as readily available forms to download and submit anytime. In addition, the ABC website also provides a convenience to its members and supports by accepting online payments.
Online payments can now be made for memberships, or to sponsor an ad on the sports schedule poster or to accept donations in general.
There are many reasons non-profit organizations obtain their website services from Northwoods Web Designs.  If you feel you're a great fit and could use some help with your online presence, Get A Free Website Quote Today!
Services provided by NorthwoodsWebDesigns.com: Domain Name Services, Web Design, Social Media Integration, Web Hosting, Web Security+Maintenance, Responsive Web Development