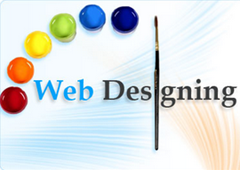 Many small businesses and organizations are faced with this need at some point.  Unless you are a large firm, you probably do not have IT staff, nor a professional Web Designer available to leverage.
When hiring out a web design company, you can go with a large company or find a firm locally. Much of it depends on your budget.
A large web design company generally will need to be much more expensive due to having multiple hands involved in the project, generally extending the schedule and costs involved.
Regardless of the selection, it's good to have a strong understanding and vision of what you are looking for.  Having  a clear vision is  one of the ways you can help cut down on time and costs involved.  Many times a good web firm will have you fill out a web development form or worksheet.
This helps you clearly communicate the image and functionality you're going for with the website. And make sure you check out the company's portfolio of past work.
Some helpful questions to ask yourself include:
How often will I need to update my website? Will I be able to do it myself?
Will it be easy for me to change content and photos?
Does this company's previous work match my vision for a website?
Am I willing to spend top dollar for exactly what I want? How much is my budget?
One of the top concerns is usually cost.  Although you have to remember a website is a online marketing and interactive billboard that works for you 24/7. Think about how much you spend on general advertising or marketing costs. Overall, a professionally designed and functional website can give a great ROI for any company.
Back to costs, think of building a website as you would if you were to build a home.  Depending on the features, size, number of changes made during construction, general complexity of the home the cost can vary enormously.
Similar to Web Design, sites can vary from $500 to upwards of $20,000 and more for small to medium sized websites.
Remember the HealthCare.gov website? That costs taxpayers upwards of 600 Million Dollars to develop. -The Washington Post
Hopefully this information will make it a little easier when then time comes and your business or organization is in need of a professional web designer.  And of course, NWD would be happy to assist and be the go to web development firm for your business. Interested in free quote? Simply Contact NWD to get started.