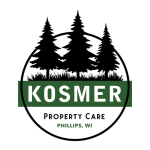 Congrats to Kyle on the launch of his new website Kosmer Property Care. We have been busy here at Northwoods Web Designs, another successful website launch for our online portfolio.
Kyle was in need of a new website for his business Kosmer Property Care. He reached out to Northwoods Web Designs and we are happy he chose us to design and launch a new website for his business. If you are in need of property care whether it is for commercial or residential in northern Wisconsin, contact them today!
You can check out the business and new website here:
Site: https://kosmerpropertycare.com/ 
Northwoods Web Designs provides all the services needed to give new businesses, or non-profits the online presence they need with a website design that effectively showcases products or services they have to offer.
If you are in need of website design and services, please do not hesitate to contact Northwoods Web Designs and let us assist you through the process. We are happy to help! Get A Free Website Quote!
Services provided by www.northwoodswebdesigns.com: Website Design, Web Hosting, Domain Name Services, SEO, Website Maintenance & Security, SSL Certificate