It was great working with Sal on getting his eCommerce business online with his very own modern designed website and unique branding.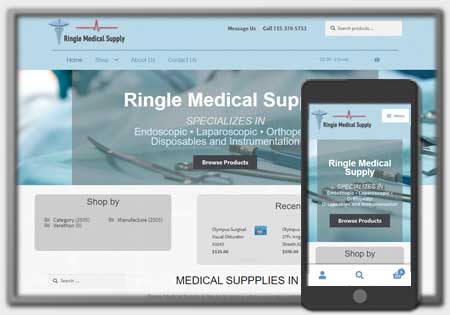 Ringle Medical Supply has distributed new and used medical equipment for over a decade using 3rd party eCommerce tools.
After ever-increasing fees, and no real individual online presence to be had, it was time to bring the business online with their own eCommerce website, skipping the selling fees and adding that unique branding and profile to the business to stand out among the rest. This site will handle upwards of 20,000 items for sale.
You can find the new website here: https://ringlemedicalsupply.com
Northwoods Web Designs provides all the services needed to give new businesses the online presence they need with a website design that effectively showcases products or services they have to offer.
Services provided by northwoodswebdesigns.com: Web Design, Web Hosting, Web Care Plan Services, Domain Name Services, Responsive Web Development, SSL Certificate Services & Ongoing Maintenance & Support