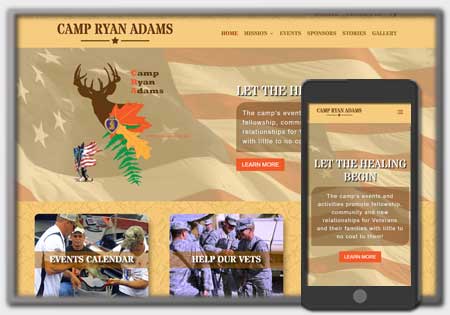 Developing websites that have a great mission and cause always hits home.
Being able to provide a great online presence is crucial, one that translates the mission and cause to the web and first-time visitors. Camp Ryan Adams is one of those sites.
The family and close friends extend Ryan Adam's legacy by promoting Camp Ryan Adams which promotes fellowship, community, and new relationships for Veterans and their families with little to no cost to them!
You can learn more about their new website here: https://campryanadams.org/
Northwoods Web Designs provides all the services needed to give new businesses, or non-profits the online presence they need with a website design that effectively showcases products or services they have to offer.
Services provided by northwoodswebdesigns.com: Web Design, Web Hosting, Web Care Plan Services, Domain Name Services, Responsive Web Development, SSL Certificate Services & Ongoing Maintenance & Support