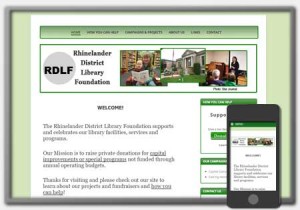 Rhinelander District Library Foundation is located downtown Rhinelander, WI and provides many services to make the community a better place t live.
It has been around for one-hundred and twelve years, and now has entered the digital space with a website provided by Northwoods Web Designs.
The website, rdlfoundation.org, features information about the organization and its projects and allows for online donations as well.
Services provided by www.northwoodswebdesigns.com: Web Design, Hosting, Graphic Design, Domain Name Registration, Responsive Web Development, Content Writing
Add a Comment