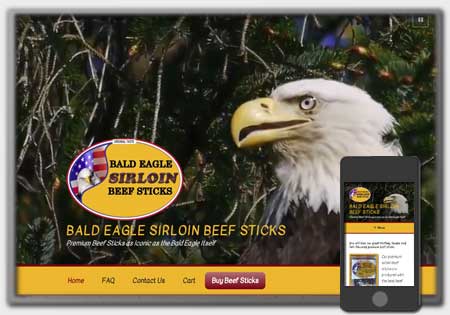 *Update 2020 – The business is no longer selling food products, but the design is left to see the design created for the site.
Congrats to Callow Foods LLC on the launch of their new website, Bald Eagle Sirloin Beef Sticks.  It was great working with Callow Foods LLC on getting the ecommerce website developed and making sure it represented the premium sirloin beef sticks that are produced and sold online.
It not only showcases why they are the best (they are I tried them), but also provides information about them as well as an integrating and easy to use shopping cart to make purchasing easy for customers.
I highly recommended checking it out and buying a pack, or three as it includes free shipping. They are handmade right here in the area and shipped right to your door. You can view the new website here ( https://baldeaglesirloinbeefsticks.com/ )
There are many reasons small businesses obtain their website services from Northwoods Web Designs.  If you feel you're a great fit and could use some help with your online presence, Get A Free Website Quote Today!
Services provided by NorthwoodsWebDesigns.com: Domain Name Services, Web Design,   Web Hosting, Security+Maintenance, Responsive Web Development