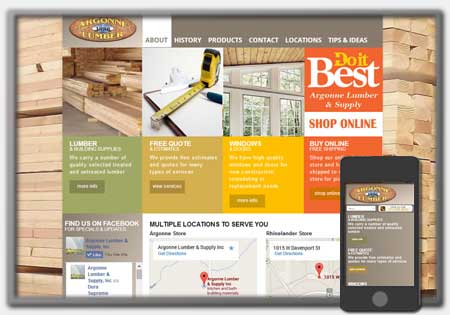 Argonne Lumber & Supply has been providing lumber and supplies for residents & general contractors for over 30 years.
It was time for a change to their original websites stood up many years ago. Their original website was severely outdated and had several issues such as the contact form not working and it was difficult to make updates to the site.
Working together we came up with a fresh new design to showcase their business features including the lumber & supplies offered, design and drafting services , their online store, social media involvement and multiple business locations to name a few.
Because Northwoods Web Designs is a one stop shop for all website needs, we combined multiple services and were able to save them over $300 a year in recurring service fees by transferring Web Hosting and Domain Name services to Northwoods Web Designs.
Site: argonnelumber.com
Services provided by www.northwoodswebdesigns.com: Web Design, Hosting, Graphic Design, Domain Name Registration, Social Media Integration