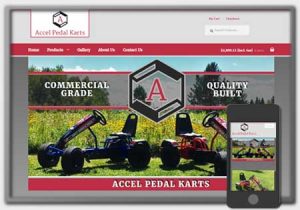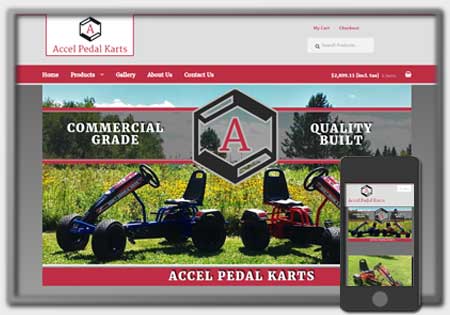 It was a pleasure working with Josh on designing and developing his new eCommerce site for his business, Accel Pedal Karts.
Accel Pedal Karts builds and sells commercial grade pedal karts that are gaining huge popularity among resorts, campgrounds and schools.
He also offers Drunk Busters pedal karts and impairment goggles for police and schools.
The new website allows folks anywhere in the US to review the carts offered and make a purchase online.
As with most ecommerce site goals, it's crafted to assure a great experience for visitors to traverse through the site easily learning more about his products and ability to buy them directly on the site.
Northwoods Web Designs provides all the services needed to give new businesses the online presence they need with a website design that effectively showcases products or services they have to offer.
View their new website ( http://accelpedalkarts.com ) to learn more about the products offered.
Services provided by northwoodswebdesigns.com: Web Design, Web Hosting, Email Hosting, Ecommerce Platform, Web Security+Maintenance, Responsive Web Development